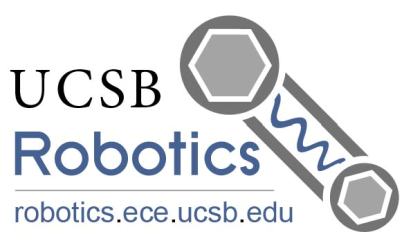 ---
RoboWiki
UCSB Robotics on YouTube
LittleDog on YouTube
New Members
Publications
The Dynamic Robotics Laboratory (DRL) at UCSB develops novel methods for both control and analysis of robot motions. Our primary foci are locomotion and manipulation, and underactuation and stochasticity are key challenges we address. Example research topics include:
- Deep Reinforcement Learning
- Legged Locomotion
- Agile Robot Skating
- Lower-Limb Exoskeletons
- Learning Contact Dynamics
- Manipulation
- Dynamic Motions of Wheeled Vehicles
Katie Byl, Principal Investigator.



Curent and past projects include:
. NSF CAREER - Robust Bipedal Locomotion
. NSF NRI - Versatile Locomotion (with RoboSimian)
. Army ICB: Biomimetic Gecko-inspired Robots
. Army Robotics CTA: Agile Locomotion with RoboSimian
. UCSB: Agile/Robust Hopping on Rough Terrain
. DARPA Robotics Challenge (Team RoboSimian, with JPL/Caltech)
- youtube video of RoboSimian
. Army ICB: Bio-Inspired Biped Robot Locomotion
. Army Robotics CTA: Robust Flexible-spine Bounding

The Dynamic Robotics Lab at UCSB is affiliated with:
the Dept. of Electrical and Computer Eng. (ECE),
the Dept. of Mechanical Eng. (ME), and
the Center for Control, Dyn. Sys. and Computation (CCDC).